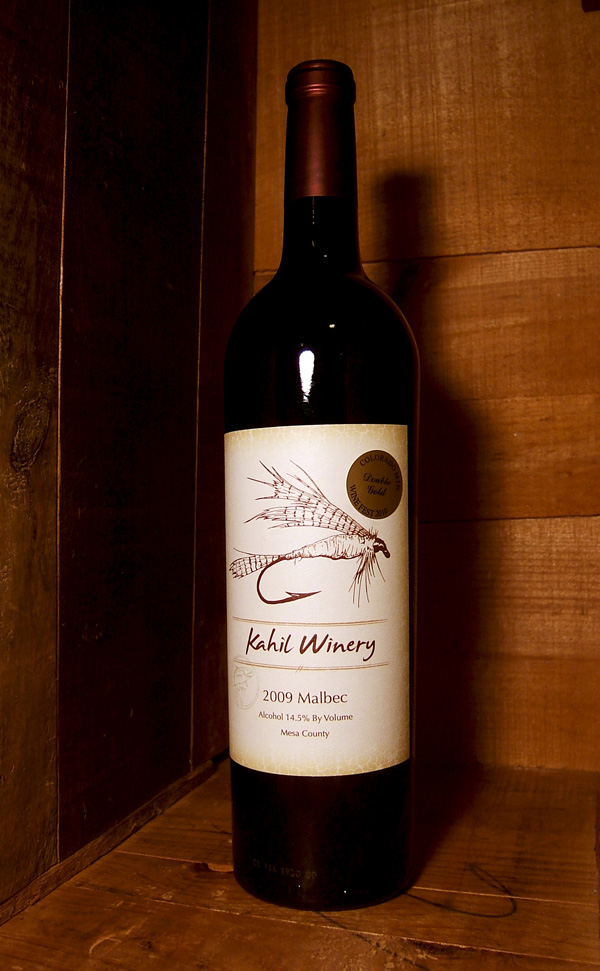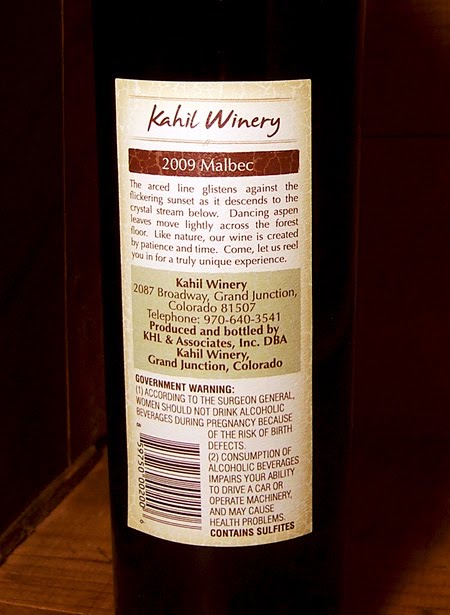 My husband Jordan and I worked with Tyrel Lawson, the wine maker for Two Rivers Winery and Kahil Winery, to design the label for his 2009 Malbec wine. Tyrel loves the outdoors and fishing so he wanted to incorporate a Cahill fly into the design. I took Jordan's illustration of the fly and brought it all together, working with an earthy color palette, a cracked texture to give it a weathered look, and a little trout emblem. The label was printed on a textured linen with the fly, trout, and name embossed. Tyrel's Malbec won two gold medals in the Colorado Mountain Wine Festival in Palisade, CO. and was featured on KKCO 11 News on NBC. Kelly Asmuth reported on September 17th, 2010:
GRAND JUNCTION, Colo. (KKCO) – A new local wine is emitting a bouquet of success, after winning a double–gold medal at the Colorado Mountain Winefest in Palisade.
Two Rivers Winery in Grand Junction has mastered the art of cultivating vino. Chief Winemaker Tyrel Lawson worked his way up from the vineyards, and now, he's pressing out his own label, Kahil.
"I'm making it different because I'm doing different varietals. I'm doing a Malbec, which Two Rivers is not. There are only a couple other wineries in the Valley actually doing that," says Lawson.
But Lawson didn't have to venture far to create his label. A law passed two years ago in Colorado allows wineries to share their facility with other labels, under a contract.
"I can use the same tanks that I use at Two Rivers to make their wines to make mine," says Lawson.
"This is the way a lot of people do get their starts in wineries in California, and our motivation is to create an employee benefit," says Two Rivers Winery Owner Bob Witham.
It's a benefit that's also shared by Two Rivers, which is pleased to keep their double–gold awarded mixologist for as long as possible. It's the only winery in the state, so far, to take up on the collaboration, which vastly supports budding vintners.
"The only profit that they're making is the overhead, which probably, in the end, is a profit that's going towards helping with the electricity and the water that I'm using," says Lawson.
While Lawson uses nights and weekends to mix his own masterpiece varietals, he hopes that one day the barrels will belong to him.
"That is the plan. With this start, having been able to put away money and slowly overtime build it up, I hope to eventually own my own (wine vineyard)," says Lawson.
"It's all part of the emerging industry in Colorado," says Witham. An industry aiming to captivate connoisseurs across the country, one bottle at a time.